QUESTIONS & ANSWERS
November 17 @ 10:00 am

–

November 20 @ 5:00 pm
INTERVIEW WITH SHOW PRODUCER MARLENE LONEY
There are a lot of craft sales in the city. What makes Art Market different and worthy of attending?
artmarketadmin
2017-12-05T00:00:56+00:00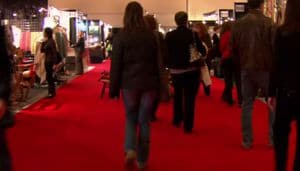 Professionalism in both the event and the artisans. We know life is busy, so we work hard to make sure the time spent at Art Market is positive and rewarding. A relaxing Christmas decor, friendly staff, an on site restaurant, and never a line at the door. Art Market is a Christmas tradition where Calgarians get together with friends and family to purchase fine art and craft and meet the interesting artisans.
The artisans have been carefully screened for quality and variety. Every vendor will be offering something special and different. Many have spent years perfecting their craft. The difference in a mug created by a new artisan vending at the local school craft sale and a mug created by the experienced artisans of Art Market is obvious. Most of our artisans are travelling across Canada to showcase their work at events such as Art Market. They stop in Calgary for just four days.